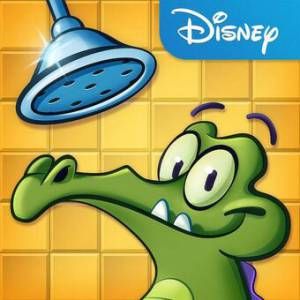 Where's My Water?
| | | | |
| --- | --- | --- | --- |
| os: | Android | version: | 1.18.3 |
| updated: | December 21,2020 | size: | 75.50 MB |

| | | | |
| --- | --- | --- | --- |
| os: | IOS | version: | 1.18.3 |
| updated: | December 21,2020 | size: | 75.50 MB |
* For reference, Where's My Water? game websites are all approved, there are no viruses and malware.
Promotional Video/Screenshot
Edit Notes
Swampy, a crocodile living below the city, wants to live like a human being. He especially likes to be clean. Cranky the crocodile doesn't like Swampy's eccentricities and conspires to destroy Swampy's water supply. Help Swampy divert water to his bath!
  "Crocodile Naughty Bath" is a challenging, physics-based puzzle game. With vivid graphics, intuitive controls and great sound effects. To succeed, you need to be smart, and watch out for algae, toxic mud, traps and traps.
  There are 140 challenging puzzles for you to solve!
How To Play
1、Q version of the game screen, and the character is cute.
2, the use of physics engine, the game play more realistic.
3, the beautiful game music makes people play very happy.
4, the game operation is simple, easy to learn.
Description
It is a puzzle and casual game in which you have to help a crocodile living underground in the city to attract clean running water because it is a crocodile that loves cleanliness. Crocodile Naughty Love Bath is a puzzle game based on physics in which players will help the little crocodile to take a bath. The game has dynamic graphics, intuitive controls and excellent sound effects. To break the level, you need to be smart, but also beware of algae, toxic mud and water, organs and traps. Let's help the little crocodile take a nice bath!
Get the game
Get it now !
Gameask.com contains only the official package of the game, all links jump to the official platform. There is no malware and it is not shared with developers. Please feel free to open it.